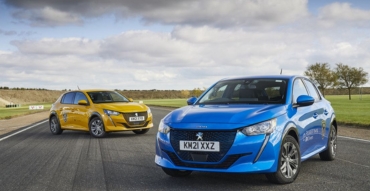 Top 10 Best First Cars For New Drivers 2023
The costs of buying and running a car can be steep, so the best way to maximise how far your money goes is to choose one that's good value, reliable, economical, and cheap to insure. While many first time car buyers will focus on used cars, some new cars can be found for a very reasonable price, particularly when financed through a PCP deal.
Below, we've listed 10 of the best new cars for new drivers. They are small enough to be manageable and easy to drive, but offer enough luxuries to keep new drivers safe and connected when they're out and about. Our selections are also good to drive, helping you to build confidence with every mile.
Top 10 Best First Cars For New Drivers
Volkswagen Up!
Hyundai i10
Volkswagen Polo
Kia Picanto
Skoda Fabia
Toyota Aygo X
Dacia Sandero
Fiat 500
Hyundai Kona
Fiat Panda
1. Volkswagen Up!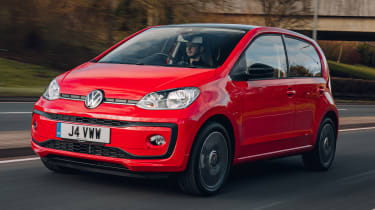 We think that Volkswagen up! Is such a good small car that we awarded it the title of our City Car of the Year for four years in a row from 2017 to 2020. While it no longer holds this particular title, it's still a solid choice as a first car.
The key to the up!'s appeal is its low price, plus all trims sit in insurance group 10 or lower (with the exception of the hot GTI model). The only engine offered in the standard petrol models is a 1.0-litre three-cylinder which produces 64bhp and should return more than 50 mpg.
Despite being so cheap to buy and run, the up! doesn't skimp on safety. All brand new models get Electronic Stability Control, multiple airbags, and a multi-function front facing camera. Interior quality also defies the budget price, with brand new models coming with air-conditioning and a DAB radio with Bluetooth connectivity as standard.
The up!'s small dimensions make it easy to drive and park, and actually rather fun, too, and while the engine is only a small unit, it doesn't feel too strained when making the occasional motorway trip. There's even the option of the fully electric VW e-up! if you'd prefer a zero-emission car. It offers up to 159 miles of battery range and the same level of quality as the petrol car, but does command a higher price as a result.
2. Hyundai i10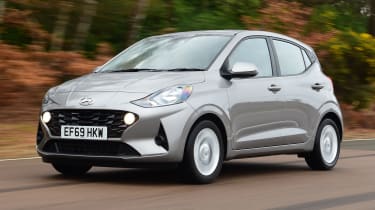 Hyundai has taken a slightly bolder approach to the latest i10's styling, and while it still isn't the prettiest car out there, it does look much sharper than before.
The latest i10 features a full array of safety kit fitted as standard across the range. However, if you want features such as a rear-view camera, climate control or even front foglights, you will need to opt for the Premium or N-Line trims, both of which command a higher price.
Insurance should prove pretty affordable across the i10 range, with the different variants ranging between insurance groups 3-10. No matter which i10 you choose, though, you will get the brand's five-year/unlimited-mileage warranty as standard.
3. Volkswagen Polo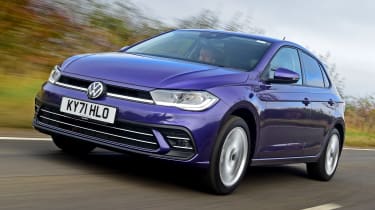 If what you desire is a 'grown-up' supermini, the Volkswagen Polo is very hard to beat.
There are a few versions of Polo to choose from, but the base 'Life' trim offers plenty of features, including alloy wheels, automatic headlights, a DAB radio, electronic stability control, and rain-sensing automatic wipers.
While the Polo is notably larger than the VW up!, it should still prove easy to drive and park. That said, there is the option of the Driver Assistance Package, which includes parking assist.
4. Kia Picanto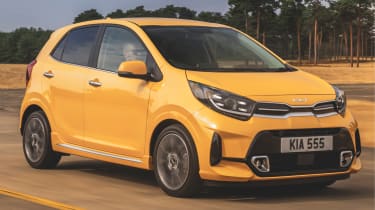 Now in its third generation, the Kia Picanto, has developed into a rather sporty-looking little car. But while the latest looks give the Picanto more of the fun factor, it actually remains a very sensible city car choice.
Inside, there is a healthy amount of equipment available across the range. Expect to find electric front windows, USB inputs, auto lights and hill start assist. Additional soundproofing, tweaked engine mounts and a new engine cover also make the Picanto much more refined than its predecessors.
Ownership costs should be minimal, with fuel consumption that can top 50mpg, and all Picanto trims find themselves in low insurance groups. Kia's signature seven-year/100,000 mile warranty should keep maintenance worries at ease, too.
5. Skoda Fabia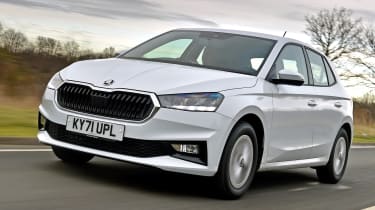 A close sibling to the Volkswagen Polo mentioned above, the Skoda Fabia is not only another car that offers plenty of practicality, equipment and low running costs, but it's also the cheaper model to buy.
Opt for the base 'S' trim and you will get air-conditioning, lane-keeping assist, autonomous emergency braking, and a DAB radio with USB-C and Bluetooth connectivity.
6. Toyota Aygo X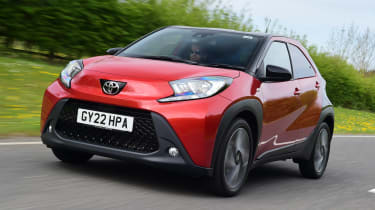 If you like the idea of owning an SUV but without the sheer bulk and difficulty of parking it, the Toyota Aygo X could be the ideal solution. Admittedly, the Aygo X doesn't feel quite as modern as some rivals due to its 1.0-litre 3-cylinder petrol engine, but, on the plus side, this should return over 50mpg without too much effort.
Take a seat inside and the Aygo X's cabin is a colourful and rather pleasant place to be. When it comes to creature comforts, the base-model Aygo X features 17-inch wheels, a seven-inch touchscreen, adaptive cruise control and a reversing camera as standard.
7. Dacia Sandero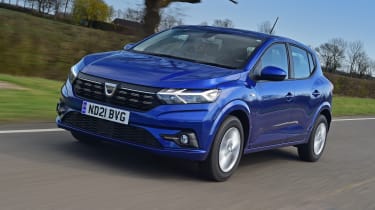 The Dacia Sandero is one of the cheapest cars on sale in the UK, and the latest-generation car is based on the current Renault Clio, which itself is a great supermini.
Admittedly, equipment on the Sandero is rather more basic and sparse than in some of the other cars on this list, but the essentials are all still there. With pricing starting from below £13,000 though, you won't feel like you're being short-changed. The latest Sandero should also prove practical for everyday use, with five seats, five doors and a 320-litre boot. While it won't give any major thrills from behind the wheel, it's reasonably cheap to insure for new drivers – the rugged Stepway version slips into insurance group 12.
8. Fiat 500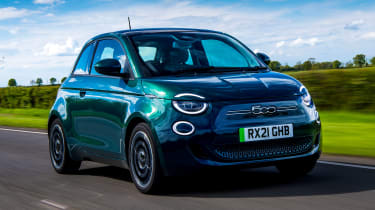 It's pretty well known that the car market is rapidly switching over to electric power, and with the UK ban on petrol and diesel cars coming into effect in 2030, you may be considering going electric from day one of holding your licence. If you are, the Fiat 500 should definitely be on your radar.
The 500 may be one of the smallest and lower-priced EVs on sale, but it's so good that we've named it our 2022 City Car of the Year. Much like its petrol-powered predecessor, the 500 offers flair and style in bulk, only this time with the added bonus of zero-emissions. If you're a bit concerned about range then you're best-off opting for the 42kWh battery, as this offers a claimed range of up to 199 miles.
9. Hyundai Kona
A compact SUV might not be the most obvious choice for a new driver, but the Hyundai Kona is an exception. It's been around since 2017 and an all-new replacement is due this year, but the current version is still fighting fit, thanks to its refined road manners, strong safety kit and a choice of hybrid engines or fully electric drive.
Powered by a 1.6-litre petrol engine and an electric motor, the hybrid can achieve an impressive 57.6mpg, but more pertinent for new drivers are its low insurance costs. The Kona hybrid falls into insurance group 8, which is lower than a Vauxhall Corsa; and considering its feature-rich interior and grown-up feel, it's worth a look.
10. Fiat Panda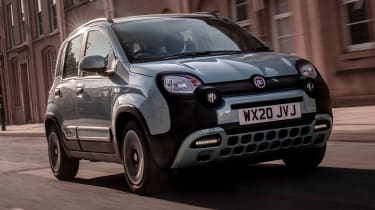 The Fiat Panda is one of the oldest cars on this list – with an all-new model due in 2023 – but it's still worth considering as a first car. Ride comfort, entertaining handling, excellent all-round visibility, and clever storage can all be found within the compact Panda. The latest cars are powered by a 1.0-litre mild-hybrid engine, so running costs are low.
Another reason that the Panda should be on your list of potential first cars is that it can still be found for a very reasonable price. A brand new Panda can be yours for under £14,000, with used examples going for even less – especially if you don't mind an older example.